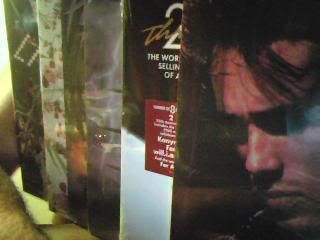 Today I picked up packages that had been arriving all week, 5 in all. All were shipped in LP mailers and all mailers were in perfect condition. Even the one from California which I was most worried about being Jeff Buckley from an eBay seller (can't return it if it gets beat up).

Unfortunately, not only am I starting a new album collection, but by default I'm also starting an LP mailer collection. Yes, I'm one of those types that can't throw potentially useful things away. For example, every Hot Wheel purchased from Mattel's online club is shipped in their standard brown rectangle box. When the car goes on the wall, the shipping box goes into a bigger box (labeled & dated of course), I have at least 100 of these empty boxes. In another box I have empty orange pill bottles. In other boxes I have every single bank statement, phone bill, you name it I have it. I have every single receipt for every Hot Wheel I've bought since 1994 (I have almost 3000 myself, and before '95 my ex and I had around 5000 that he kept- I have all those receipts as well), and every receipt for everything else since October 1995. Everything. Even fast food. When I was a kid, my mother told me to never throw receipts or important papers away- you just might need them later. Did she curse me or was I predisposed by genetics? I probably have several hundred plastic grocery bags- in bigger bags in another closet. Keep in mind I'm just one person and I don't buy a lot, and bags are always handy. You would think my apartment is a disaster, but it's not. I'm not a clean freak but I like my space neat and organised- everything has its place. Because if I couldn't find something, I'd go nutzo until I did. Short trip, I know. :)

Back to the records. I think it might be a neat hobby to collect at least one album from every state. So far the albums have come from mostly different places:

Jacksons Live: Lynbrook, NY
Debbie Harry - Koo Koo: Kannapolis, NC
Prince - Purple Rain: Enterprise, AL
Prince - 1999: Columbus, OH
Heart - Greatest Hits/Live: Port Reading, NJ
Michael Jackson - Off The Wall: Valley Stream, NJ
Michael Jackson - Thriller 25: one label says South, FL; a label over that says Findlay, OH
Jeff Buckley - Grace: Long Beach, CA

Koo Koo is a bit disappointing: besides quite a bit of wrinkling, the cover has a brownish tint unlike my almost silverish blue/gray copy. Mine is rather beat up and I cut all the sides (front/back covers & sleeve) to display in 4 panels on my bedroom wall in the early 80's (AutoAmerican got the same treatment). I thought this would be a cheap replacement. The seller described it as sealed, which it is, not perfect, which it isn't. But I only paid 99 cents plus $3.75 ship. Get what ya pay for. Items like this- especially cut-outs are probably best bought in person. There are many of these listed and I did go for the cheapest total. Still glad I got it just for the unplayed disc.

The cover of Buckley's Grace is EXTREMELY disappointing. The photo is printed ridiculously too dark. The blue background is almost completely blacked out, you can't see Jeff's eyelids and the skin on his chest appears blotchy. This is the most recent pressing by Sony imported from Germany this year. I already planned on getting another copy- one of the audiophile pressings, to keep sealed. From what I've read, the Sony Legends pressing from '04 is the best sound AND cover (plus a red vinyl 7"). From photos I've seen it looks like the cover is printed with MUCH more care- but I only see them priced around $65-$75. There is also a Simply Vinyl pressing, usually priced in the $30 range and the cover looks to match the quality of the original CD cover at least. Comparisons below:

Original CD (and Simply Vinyl quality)
2008 Sony pressing I just got (no exaggeration, this is a photo of the LP in shrink from musicstack.com). I doubt Mary Guibert, his mother whom overseas his estate, was too thrilled when she saw how this turned out: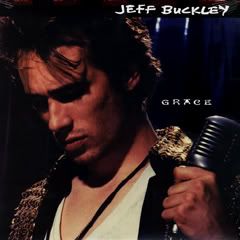 The '04 Sony/Legacy pressing- beautiful! No doubt as Merri Cyr intended her photos of Jeff to be: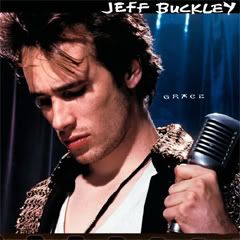 Purple Rain is perfect. I always loved the hype sticker, still have my original. I wish the saw-cut were on the bottom instead of the top- but I only paid 8 bucks total. I can't believe it was ever a cut-out to begin with.
Thriller 25 is flawless. I haven't opened it but I HOPE the full Mikey J & tiger cub is the inside cover like the original was. I noticed for the track listing they used the font based on the original hand-written titles like they did with the 2001 remaster. That's kinda too bad, the original hand writing added a little something extra. Like so many other fans probably did, I modeled my own handwriting after Thriller. The cover photo isn't as clean as I remember the original, a little grainy. I'll compare them when I snag a cheap/sealed copy.
The Jacksons Live is in pretty excellent condition, better than I thought it would be. No wrinkles, no fingerprints. Something had the inside cover stuck to each other and caused about a 2" area to peel- but it's firmly stuck to the other side in a uniform pattern across the spine, almost looks like part of the photo so it doesn't bother me. It was a bargain for 10 bucks in this condition.