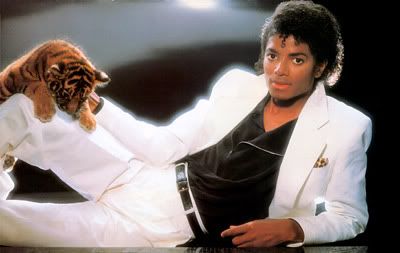 A couple drinks and a couple records is a great way to spend any anniversary.
When my copy arrived I was a little bummed to find the cover photo is grainy, and the inside gatefold was not the original photo with the tiger cub (at top), but instead it's the Thriller video zombies. The inner sleeves are full color with various photos from the era and lyrics/credits, and smaller version of Mike's sketches that were featured full size on the original front and back inner sleeve. Minor gripes.
The records sound great and
Thriller
is no less the amazing album it was 25 yrs ago. Since credits are listed for tape restoration and archive research, we can tell this is a new mastering from original tapes and not a further punch-up from the '01 remaster. Mastering for CD is credited to Tom Coyne / Sterling Sound NY, and no credit appears for the vinyl mastering but 'RJ' (Ray Janos of Sterling) is written in the wax. He probably cut the vinyl from Tom's new digital master since there's no analog mention. I don't have an original '82 to compare, but it sounds as excellent as the '01 CD master to me.
Disc 2 offers a full outtake from the original sessions, no doubt originally cut for being a less interesting drone of
Human Nature
, but still interesting enough. The '01 release included part of another outtake,
Carousel
, as part of the bonus material. This would have been the perfect place to give us the full version of that, and repeat the
E.T. Storybook
track
Someone In The Dark
bonus. (I just saw they are all included in an iTunes deluxe version with an additional remix of
Billie Jean
)
The new material / mixes included could have been used for other Thriller era material like 12" versions and instrumentals. The b-side
Can't Get Outta The Rain
or it's full
You Can't Win
would have been a great cut to include (even though it's from '79/'80). Or license McCartney/Jackson's
Say Say Say-
they did it for Jackson's Essential 3.0 collection! Instead the space is wasted with hyped contemporary performers will.i.am, Akon, Kanye West and Fergie. I know, I know... they need new artists to sell to a new generation. Fair enough.
The
will.i.am
take on
The Girl Is Mine
is pretty nice, and his build on the
P.Y.T.
demo is pretty good. I also like the intro and new arrangement of
Wanna Be Startin' Somethin'
with
Akon
. As for the
Fergie
duet on
Beat it
: Why? (I hope Eddie finally got paid this time). Is it possible to re-invent
Billie Jean
?
Kanye's
mix is pretty fair, he at least keeps the most important original elements. Oh wait... HE TOOK THE BASS OUT. Thankfully all we hear of Kanye is the usual 'Uh, yeah yeah' in a couple spots. I despise that he and Puffy are famous during my lifetime. (Seriously)
MichaelJackson.com.
Download the full version of Carousel from
Michael Sembello's website.